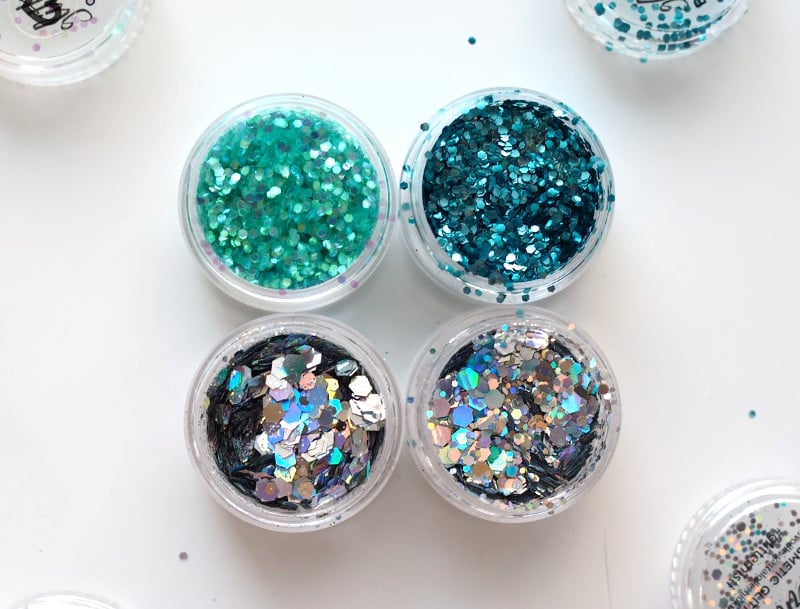 Glitter makeup ideas with tutorials and instructions on how to remove glitter from your skin. 
Glitter makeup is as fun as it gets. It's super popular, especially during the festival season. Glitter makeup looks are amazing and you could easily think, that those dazzling looks are very high tech. But actually it is the easiest look you could do.
I love playing with glitter and it's very uplifting to do for others as well: you get such a positive and joyous feedback instantly. I think most of us are drawn to shiny things and having our face literally lit up does work wonders for your mood as well.
Always use cosmetic grade glitter – never ever craft glitter! There is a big difference and you don't want the craft glitter ever to get in your eyes. In this post I only used cosmetic grade glitter and I left some links to some stores, that sell them.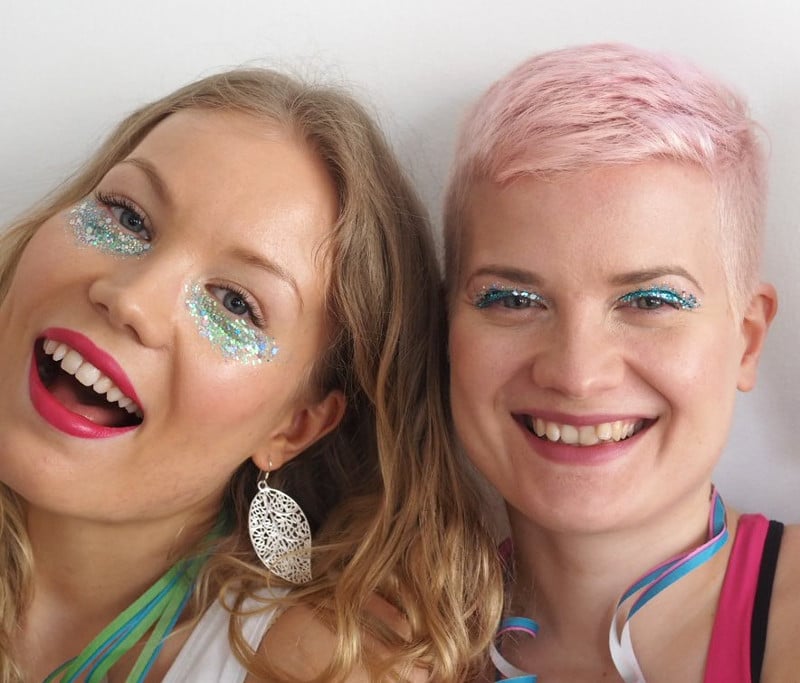 Glitter makeup ideas  & Glitter makeup tutorial x 3
You can apply glitter to almost anywhere on your body and your hair, but you can't go wrong with a glitter highlight, sparkly under eye bags or dazzling eye lids. But honestly – sky is the limit here! You can also make different geometrical shapes easily by using tape as your guideline.
The easiest way to apply glitter is vaseline, but you could try some other cream or wax as well. Glitter glues or glitter primers are obviously perfect for this job as well, but not all of us have it ready in the drawer. I have to say though, that NYX's glitter primer is a must have for me. I don't only use it for glitter, but for sparkly eyeshadows as well. It really gives the perfect base for anything sparkly.
Links to some glitters products can be found at the end of this post!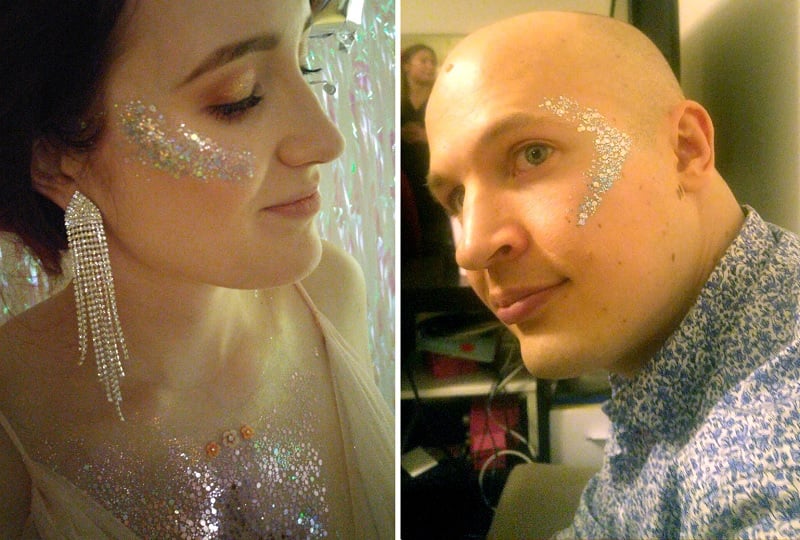 Glitter eye lids
You need: glitter glue & some flat brushes & glitter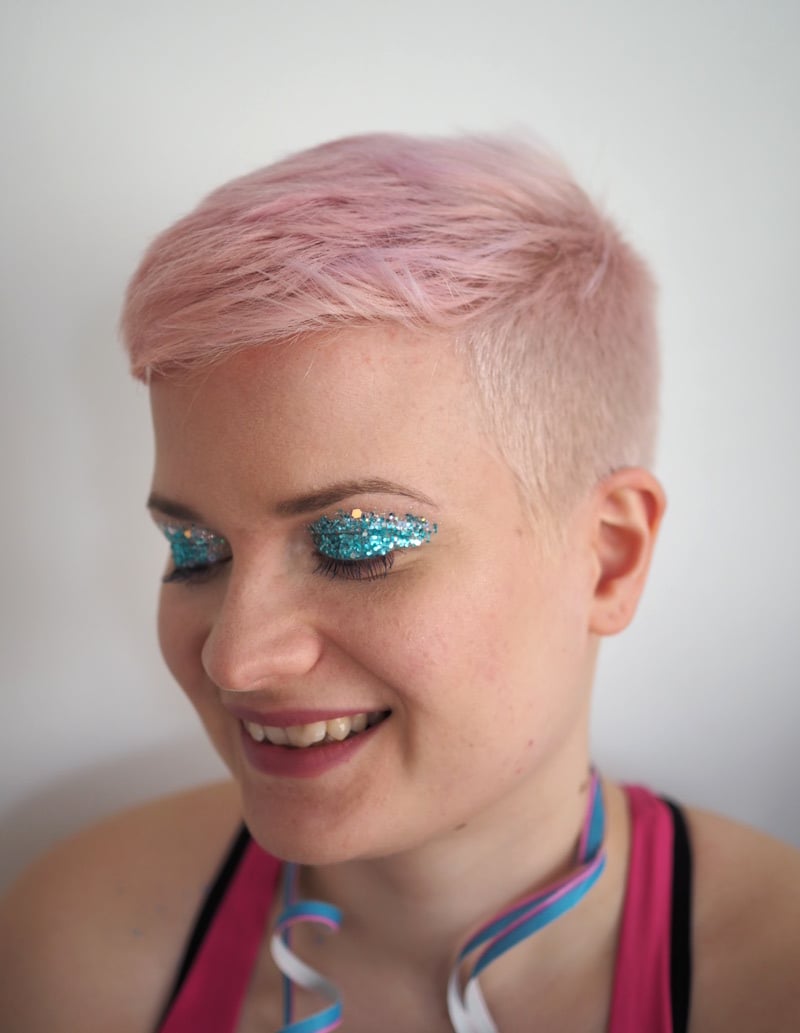 How to: First apply some glitter glue on your lids. Get an even layer and blend it towards the brow bone. Then apply the glitter of your choice. I used flat brush for this as well. I used first turquoise glitter and then silver glitter on the edges, so that it looks gradient. If you prefer a more perfected look, you could apply some eye shadow under the glitter (in this case turquoise), so that zero skin shows through.
Note! Vaseline is not enough for your lids, so do get that proper glitter glue for this look. The base needs to be sticky and very long lasting, so that the glitters don't fall in your eye.
Glitter under eye bags (these are definitely chanel!)
You need: vaseline & some brushes (or your fingers, if you're good with your hands) & glitter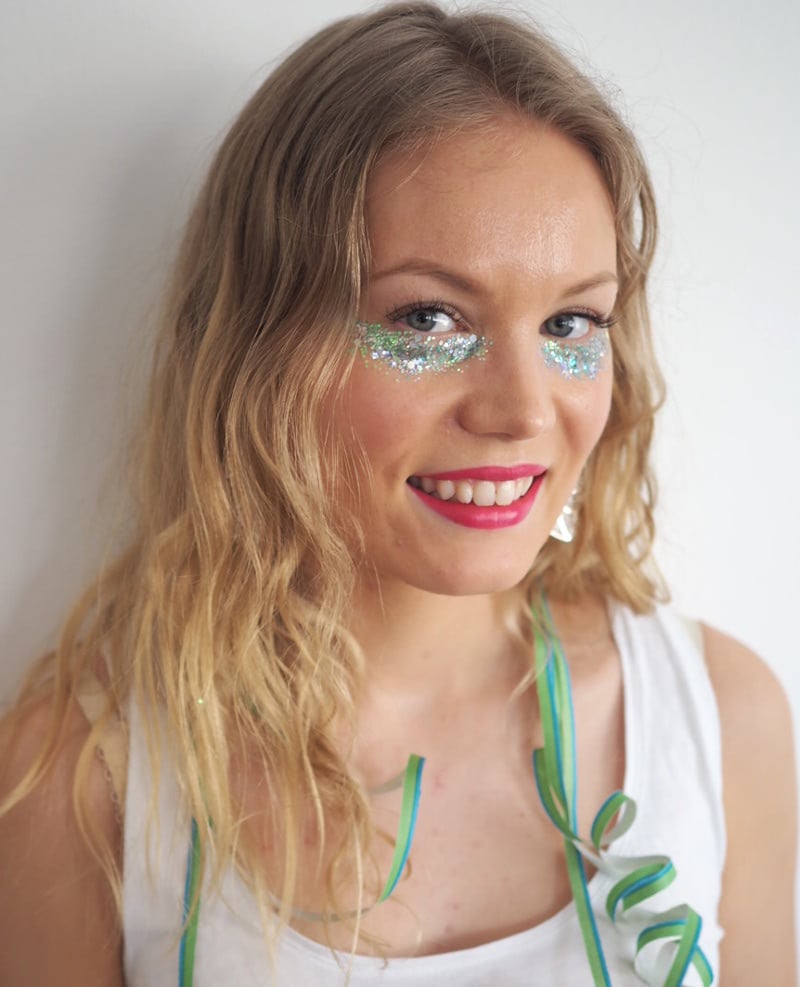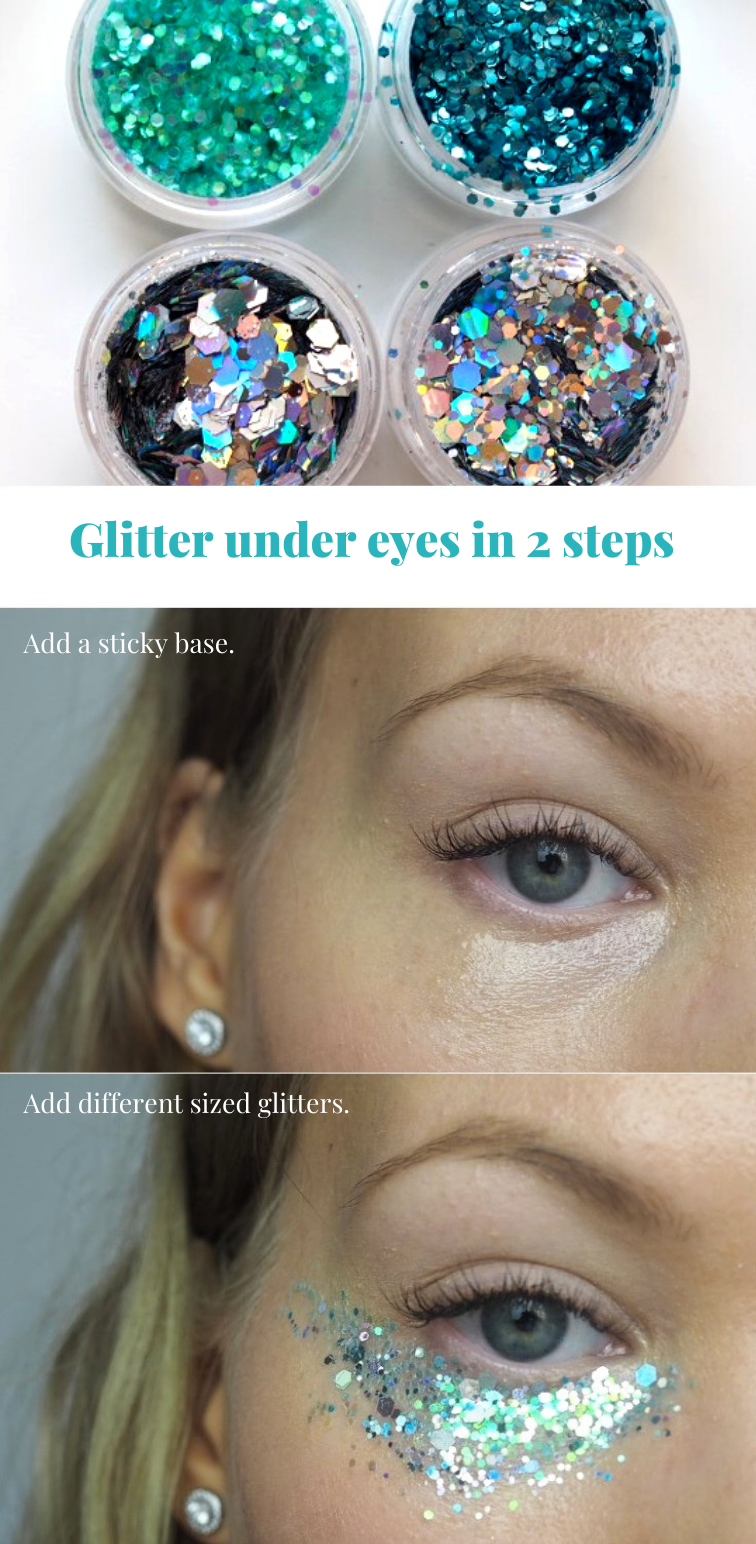 How to: Apply vaseline under your eyes right where you want the glitter to stick. Try to blend the edges a bit by tapping motions. Then apply the glitter of your choice. I have found that mixing two colors and different sizes works the best. I applied the bigger glitter on the center and finer glitter on the edges (again, to get that gradient look).
You could use glitter glue for this, but since the skin around our eyes is quite thin and sensitive, it makes sense to use vaseline. It's easier to remove, for one, and it doesn't feel as dry as glitter glue might.
Glitter highlight
You need: vaseline & glitter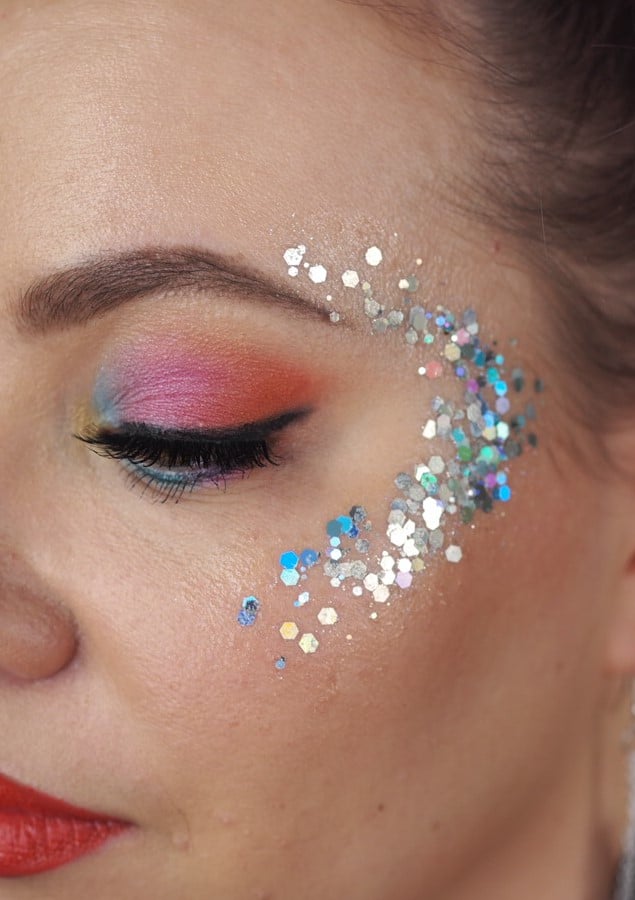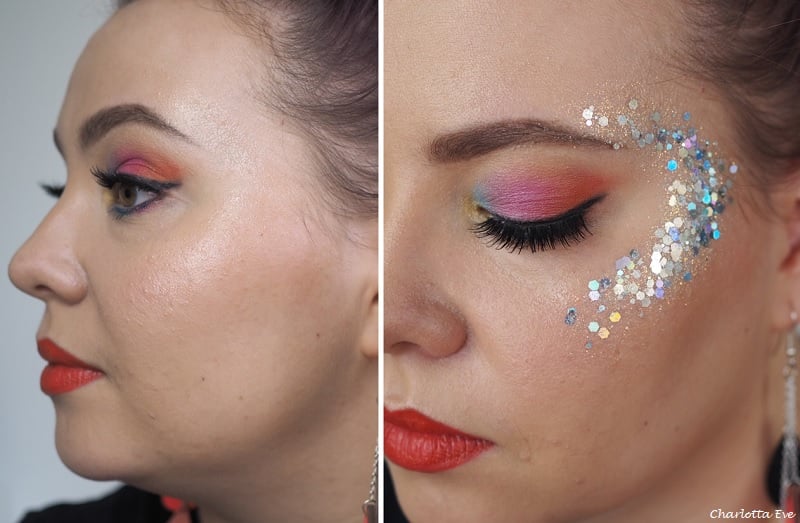 How to: Apply vaseline as your highlight and blend the edges. Then apply your glitter. You can just use your fingers and tap it on – or use brushes. Whatever works for you. You could do this look with just one glitter or mix a few different glitters. I used silver glitter (but it reflects light and looks very colorful) and a very fine white iridescent glitter on the bottom.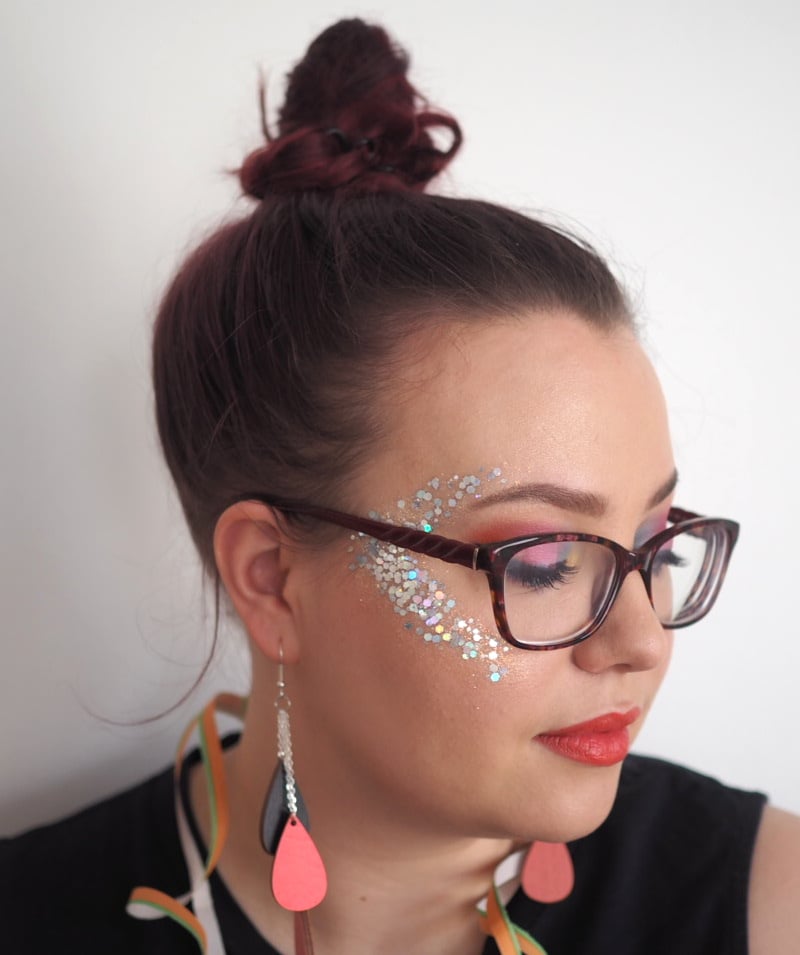 Where to buy glitters?
Here are some options to buy safe glitters. I myself use and buy glitters mostly from a Finnish makeup artist, glitternisti. Here are some options from amazon!
Amazon
*NYX Glitter primer
*NYX Face & Body Glitter
*Glitter Eco Lovers Biodegradable Glitter
How to remove glitter makeup from your skin
Removing glitter from your skin takes some patience. But especially if you're not using biodegradable glitter (guilty!), it is the one time you need to pull yourself together and focus. Glitter is messy, so you need to be careful with both it's application and removal, so that it doesn't end up in our ecosystem. You could say I'm almost hysterical about this, as I don't want any glitter to get in the sink. These tips might not be the best for your skin, but I think a little inconvenience is okay for your skin, as long as you're not doing it every day.
So – my tips to take off glitter would be to use
Lint roll
Tape
Cotton pads & makeup remover/micellar water/toner
Makeup wipes
I have found that using just cotton pads or makeup wipes is a waste of time. I want to first lift off most of the glitter. Besides, lint roll or tape grabs the glitter in them and you can just throw it in the trash. Glitter doesn't 'stick' to the cotton as well as on the tape. But always remember to finish off with a makeup remover and your skincare, so that your skin doesn't get irritated.

Here I first took the most off with a tape and then when there were just a few left, I took them off with a cotton pad and a makeup remover.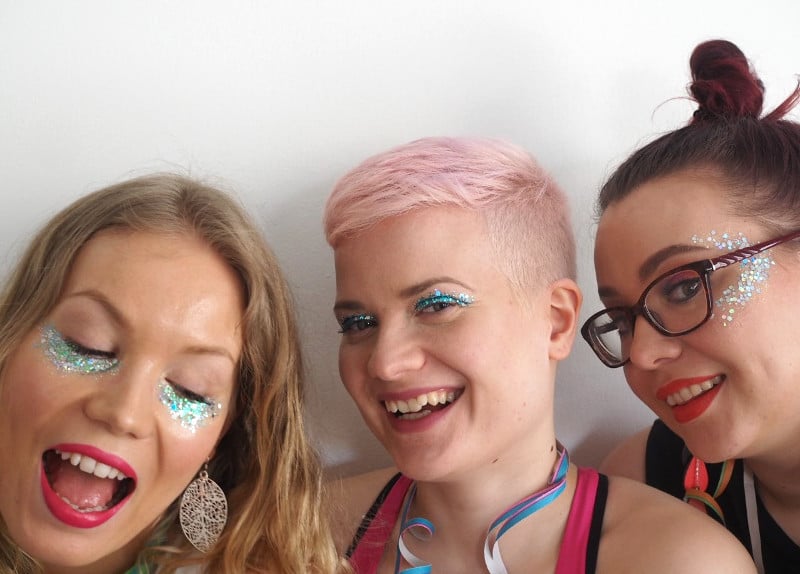 So – are you ready to sparkle? Any glitter events coming up?