Many of us start a diet after winter. I know I've been there many, many times. I don't really believe in diets though – if you are constantly on a diet you probably need a proper lifestyle change. But – yes there is a but – sometimes a short diet does you really good. And a diet isn't always about your tummy or even about food. I'm talking of course about my most recent diet – Skincare Diet.
Skincare diet means to cut out all the excess products you're using for your skin. You still need to wash your face with a cleanser, because your skin sweats and develops sebum and the idea of this diet is not to make the skin worse. You should skip lotions too, but if your skin gets dry try simple clean products such as natural oils. The proper time for this diet is 1-2 weeks, depending on your skin (you need to listen to it here, and see what it needs, you know).
What I did was leave out all my lotions, toners, masks, serums and exfoliators for a couple of weeks. I tried to take care of my skin with the most simple products with just a few pure ingredients. The products that I used were cleanser and natural oils. That's it. It would have been good to not wear makeup at all, but I didn't want to do that, so I had to use a makeup remover too on those days.
I used oil as a moisturizer in the evening and/or in the morning. Some evenings I skipped the oil completely, but living in Finland my skin gets so dry I have to moisturize with something.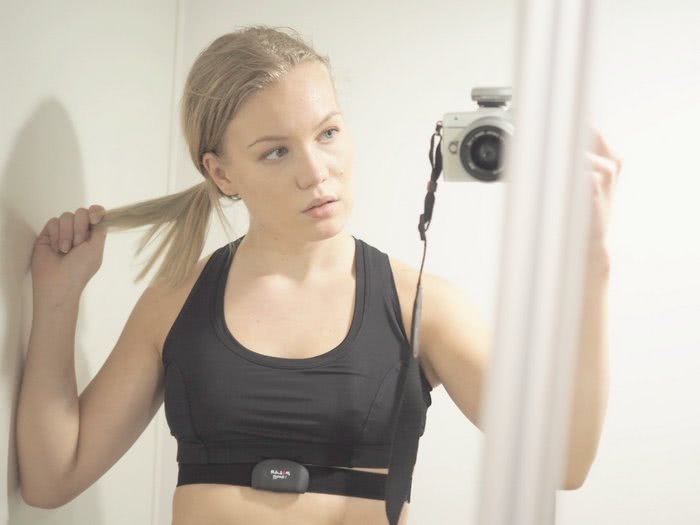 About my experience
For me, the skincare diet was worth a shot. If you're a regular reader of mine you know I struggle with acne and over-skincare is definitely one of my sins. I love skincare products and I have a ton of them. I don't always have a clean routine where I only use a few products, but I mix and match and sometimes that takes a toll on my skin too. I've never tried to not-take-care of my skin. I've always had a ton of products in use at the same time. Solution: taking a break from them. My skin was really sensitive at the moment too so I figured I could give it a break.
The diet helped my skin to calm down a bit and it helped with the dryness. It also taught me that I can survive on only moisturizing with oils! It also gave me a great chance to declutter my cosmetics and find out what products I was loving and what belonged in the trash. The most important thing I learned though was that my normal routine with cleanser, toner, lotion (=oils) and weekly exfoliator + mask is working for my skin. I just need the right products and I shouldn't be changing them all the time.
It's was also relieving mentally: the diet gave me a much needed break from my routines and after it I felt super excited to get back at my products. I also love that now my bathroom is only full of products that I'm using or that I've found really good.
But since it's only a diet and not a skincare routine I recommend to follow, there were some cons too. My sebaceous filaments got worse during this time. As I said on this post, exfoliation is key to maintaining an even skin. I also feel like my ~2,5 week diet was a bit too much and a week or two would have done just fine. I felt that my skin was super oily and bumpy at the end of my diet and I couldn't wait to properly wash it and do a good old purifying mask.
I can recommend the diet for anyone who is struggling with their skin like me. But I dare to say it's not the solution for a clear skin. It can be beneficial for the skin to get a break and for you to see what products are really working and what it is your skin actually needs. If you're using hundred different products, but feel like none of them are working or if your skin feels dry and irritated no matter what you do, maybe try this.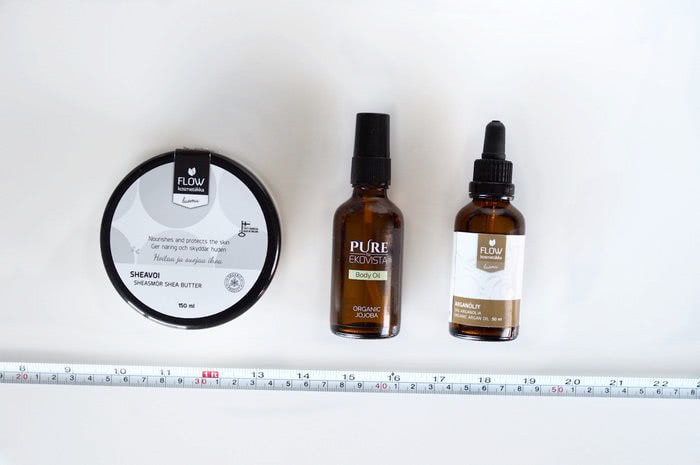 3 x wonderful oil
These products are mainly Finnish brands so I chose similar organic products from amazon, *links are affiliatelinks
This diet also taught me a lesson on natural oils, which are the only thing I'm still using after getting back to my regular skincare routine. I have three in use: Jojoba oil, Argan oil and Shea butter. All of them suit my combination acne-prone skin fine and they don't cause pimples or irritations.
Jojoba oil
Viva Naturals Organic Jojoba Oil
*
A great oil that I came up when I realized how much it's being used in my favorite makeup products. I soon noticed it suits my skin perfectly! Jojoba oil has antibacterial and anti-inflammatory properties so it works for oily skin and acne – and all skin types. It moisturizes the skin containing vitamin A, B and E, but it also absorbs really quickly, which was surprising, because I'm used to the oily feeling after application. I can use this in the morning now too under my makeup.
Argan oil
PURA D'OR Organic Moroccan Argan Oil
*
My go-to oil. This I recommend to anyone, to any skin type.  It's not only a great moisturizer with fatty acids and vitamin E, but it also has anti-aging properties and it helps with acne and scarring.  This is the best oil for oily skin, since Argan oil balances the oil production and can help with acne scars.
For the record: My sister has a completely different skin type than me (dry skin) and her skin loves this too.
Shea butter
Sky Organics Organic Shea Butter
*
The heaviest oil of them all. Shea butter is solid in the jar, but it melts from the warmth of your skin. I bought this when my skin was extremely dry begging for mercy. This helped, as I stated on my January Favorites post. This is super moisturizing (vitamin A and E) and thick so I recommend trying it for a smaller area first – especially if you have combination or oily skin. For my skin it works just fine, but it does leave a greasy feeling so I don't use it every day. I focus on using this on dry patches or dry areas such as my forehead (hello wrinkles!). This is the best body moisturizer as well.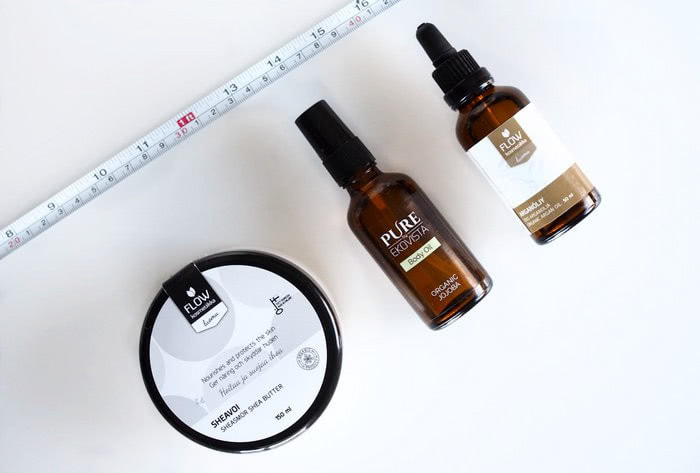 Have you tried a skincare diet? What's your favorite skincare oil?