Make Up Forever HD Foundation is a super popular foundation. It promises a good coverage and an even base but is still quite sheer. This is my quick review on that foundation.
I bought mine from work so I got a little discount. There was only one shade left so it doesn't match my skin perfectly but it's  okay when I get some tan. My shade is 140 so it's a very warm yellow-based colour.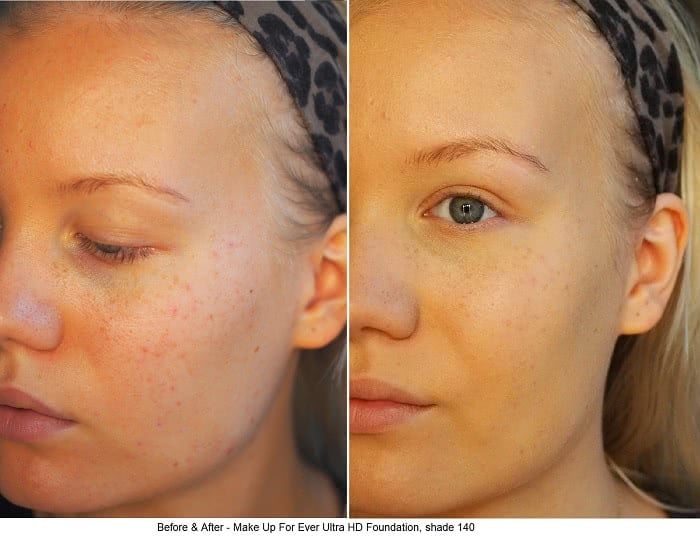 Here is a before & after the Make Up For Ever HD Foundation. As you can see, the coverage is good. It doesn't fully cover the worst pimples, but that's what concealer is for. I think my skin still looks nice and silky. I applied the foundation with a beauty blender – I find that that works great with this foundation.
I like the foundation. It feels light on the skin, it gives a sheer finish and it's buildable. I think I'll wear this at photoshoots or at other special occasions.
The only downside to the foundation is, that it's not that long lasting. At least for my skin, which is quite oily. So for oily skin this wouldn't be the best option. It doesn't last as good as for example Rimmel's Lasting Finish Nude 25Hr foundation which is three times cheaper than this. And it doesn't compare to my all-time favorite foundation – Clarins Everlasting Foundation.
I would love to try out the HD Stick version. I've learned that it gives a full coverage and stays on well. Have you tried it?