I learned some new things, when I was browsing the beauty and health effects of honey. Honey can be used in skincare and it can even treat wounds. I recently have been really interested in natural products, which can take care of your skin.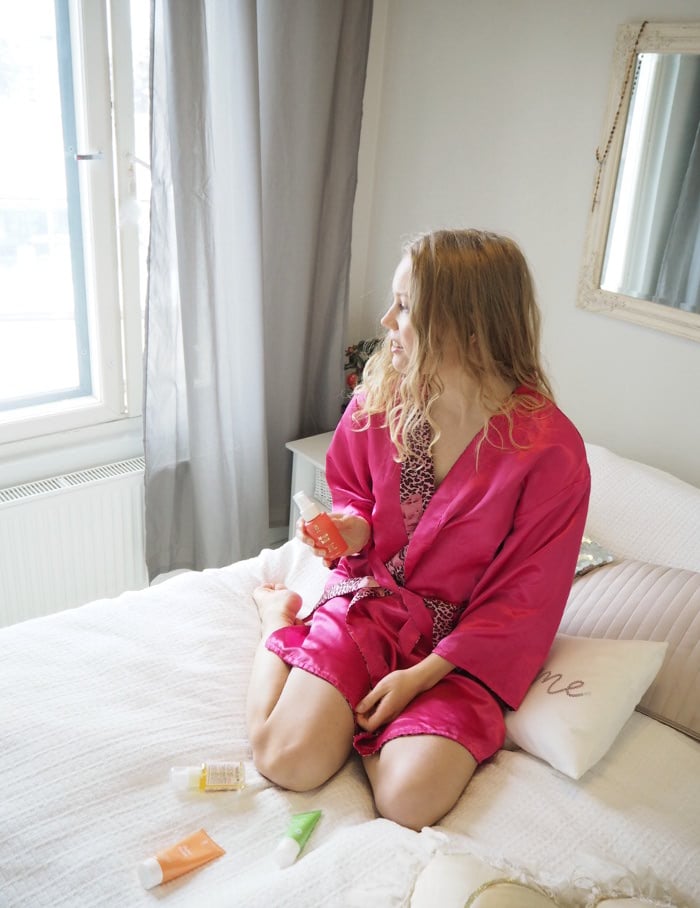 Honey in skincare – what benefits does it have?
Honey has long been used in wound care as it contains bacterial killing and prophylactic ingredients. Studies suggest that bees produce the protein called defensin-1, which they add to honey, and specifically this would be a bactericidal ingredient. In addition, honey contains vitamins and minerals such as vitamin C and zinc.
This also explains why honey can be used for inflamed pimples. That I have to try!
One of the best natural ingredients to use, is honey. I love to use honey, when my skin is dry, stressed or needs a little extra care. My favorite way of using honey in skincare, is to do a mask.
In skincare honey is gold, as it protects, treats, brightens, moisturizes and nourishes the skin. Honey can be used as a mask or even as an exfoliator together with sugar or salt.
You can add other ingredients to your mask, but here is my fool proof recipe for a honey mask:
DIY HONEY MASK
2 tbs (organic)honey
Apply honey all over your face. You can apply it on your lips too. Let it do it's magic for 10-60 minutes. Wash with cool water.
I actually left the mask on for about 20 minutes. There is not really a time limit to it, you can even leave honey overnight on the skin, but it may be a little impractical. Rinse the mask with cool / cold water. Honey is easily dissolved with water and it doesn't leave your skin sticky. After the treatment, my skin felt clean, radiant and nourished! I barely needed any moisturizer.
After the mask, my skin didn't need any makeup.
           DIY HONEY SCRUB for lips & face & body
1 tsp honey
1 tsp sugar
Carefully rub the scrub on your lips and let it sit for five minutes (try not to eat it haha).
Have you tried honey in your skincare?