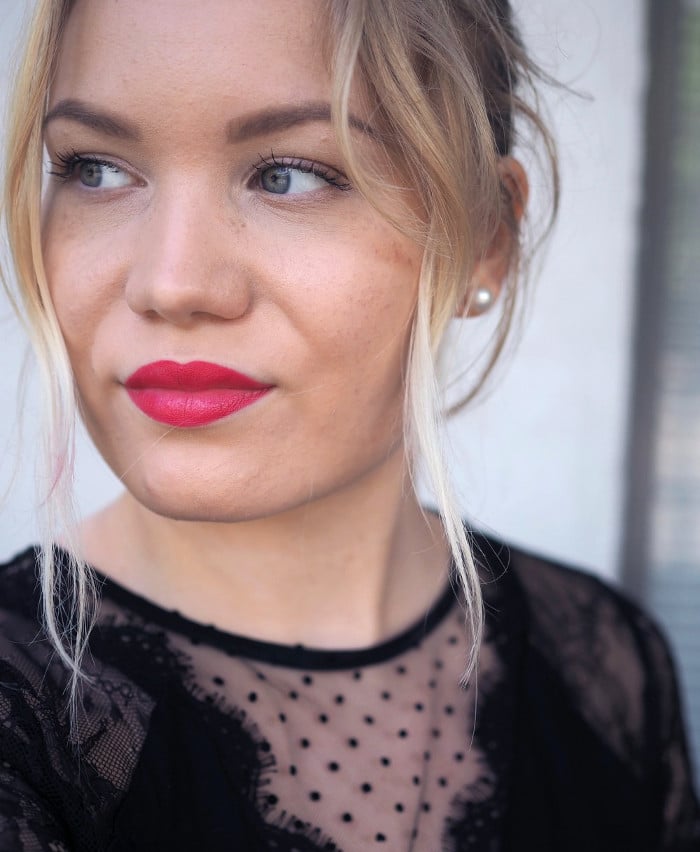 Sensai's products are luxurious and of good quality in my experince. Sensai comes from Japan and it utilises Asian skincare philosophies like double cleansing. I think Sensai has one of the best cleansers – especially if you're used to double cleansing already.
I have used Sensai's cleansers and tried their lotions but I haven't tried their makeup. Usually high-end makeup is better than drugstore 'cause the ingredients are better and they have more skin caring properties. So it was nice to get this Sensai's Silky Design Rouge lipstick from the importer.
The packaging is simple yet beautiful. This lipstick comes in a pen form so it works as a lipliner and a lipstick. Some lip crayons are clumsy and too big to get a nice sharp line but this one actually is pretty good for that. It's easy to line your lips with this and then fill them in.
The formula is silky smooth and nourishing. The lipstick glides on easily and feels light but still has great pigmentation. It has a shimmer finish which is nice variation from matte lipsticks. But since it's hydrating it may escape to the fine lines in your lips/skin easier. I recommend outlining your lips with a transparent lip liner to prevent that from happening. That way you can enjoy your red lips all day without worrying.
This is quite long lasting – not quite what matte lipsticks offer but I think that's only a good thing. Matte formulas can be drying and not so comfortable but light lipsticks are more wearable. You can easily take this lip crayon with you and fix your makeup during the day if needed.
My shade is Soubi which is a gorgeous rose/raspberry colour. This is the brightest colour from the available shades and the most pink. The shades are inspired by the traditional reds of Japan and the shades are really wearable and pretty. Reds are easy and they suit both every day looks and parties.