For me, Summer isn't the high season for cosmetic products. What I mean is – I use way less products.
I easily forget to wear any makeup. I barely use any moisturizer (on my face, that is). I skip all the extra products and treat my skin with the bare minimum. Summer is so beautiful and so short here, that I try and catch every moment I can.
Even if it means drinking more mojitos and sparkling wine. No, actually, especially when it means that.
That said, there are some products that are in a frequent use – that I don't really touch otherwise during the year. And those are of course self-tanners. I've gotten lots of compliments from my friends, telling me I look beautifully tan. Now a good way to tell if your self tanner is working is if people say to you "You are so tanned!" Instead of a "What self-tanner are you using?" (Unless the one asking is a good friend of yours and knows you're pale as a wall normally.)
The brand I use and have been using for the past year is Eco By Sonya. It's the best I've tried and I always recommend the products to my friends (who love it too). I used to hate self-tanners, I got lines whenever I applied them and I hated the scent.
With these, I have zero complaints.
I got the products as pr-samples.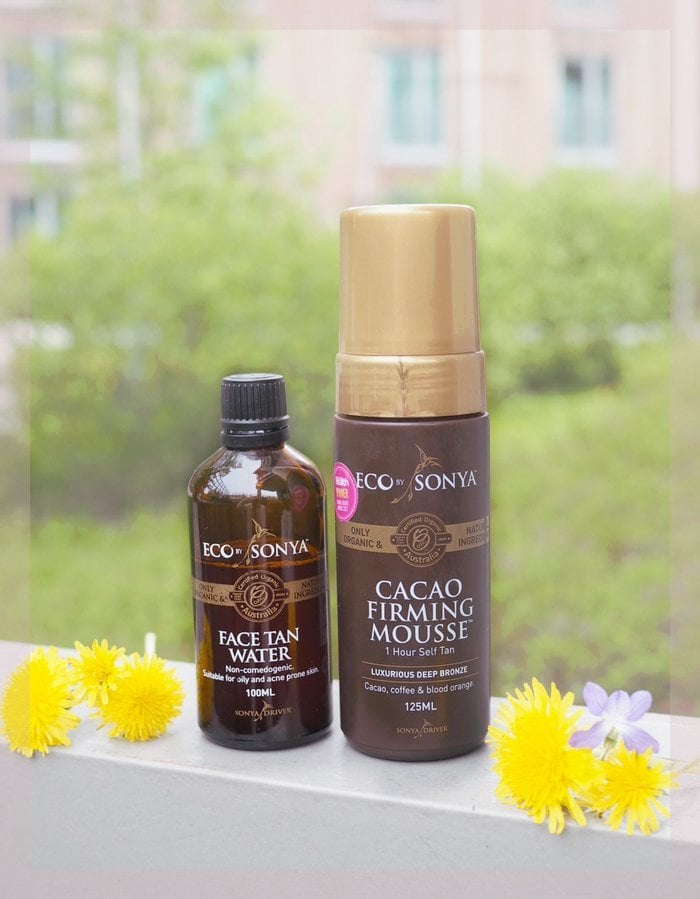 Eco By Sonya FACE TAN WATER
*
This is honestly the best self-tanner for face. This toner is formulated to suit oily skin and even acne so it actually suits all skin types. It's easy to apply with a cotton pad and it doesn't leave a greasy feeling on the skin. It actually kinda feels like nothing, but somehow you wake up having a tan which is magic. You get a deeper colour depending on how much product you take to your cotton pad. I usually wet the cotton pad before applying the toner in it, so that I don't waste any product.
Eco By Sonya CACAO FIRMING MOUSSE
*
I was so excited to see this product at the organic cosmetics exhibition, because it promises to make you tan in just one hour! You can build up the color by leaving it on for 1-4 hours. I usually do 2-3 hours. The only boring thing about self-tanners is that you usually have to sleep through the night to get results – but with this I can be done in just a few hours! And the color that I get by chilling with my bathrobe on in the morning while doing some work on the computer is just beautiful. This is a mousse, which dries pretty quickly without leaving you greasy. It's still easy to apply and blend – I haven't got any streaks with this. You should still be quick with your application and focus on one area at a time.
You can read more about the brand on their website, but I'll tell you a few facts: it's Australian, eco-certified & great quality.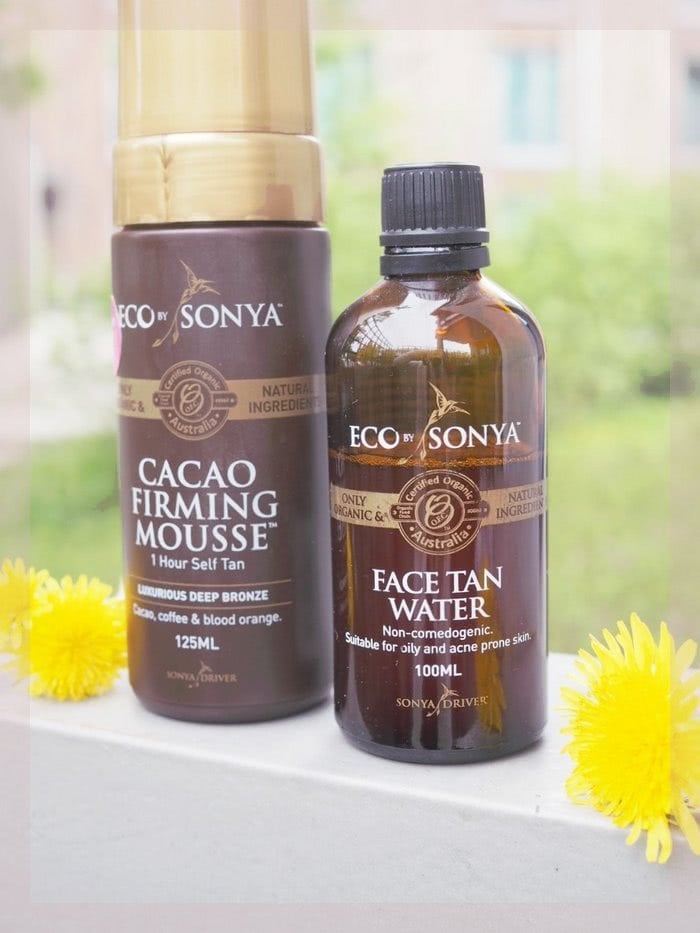 It's super hard to take the exact same picture in the same lighting to show you the difference, but here it is. The tan isn't that red in real life, I had to edit the colors a bit. Here I used the Firming Cacao Mousse once and left it on for 2,5 hours.
You can read more about the brand on their website, but I'll tell you a few things: it's Australian, ecocertified and of great quality.
Eco By Sonya also has a gradual tanning moisturiser, that is great for a really pale skin and/or to maintain the tan. It's also buildable and you can get a nice tan with that also –  here is my review about that with a before/after photo.
Do you use self-tanners? What products do you only use during the Summer?