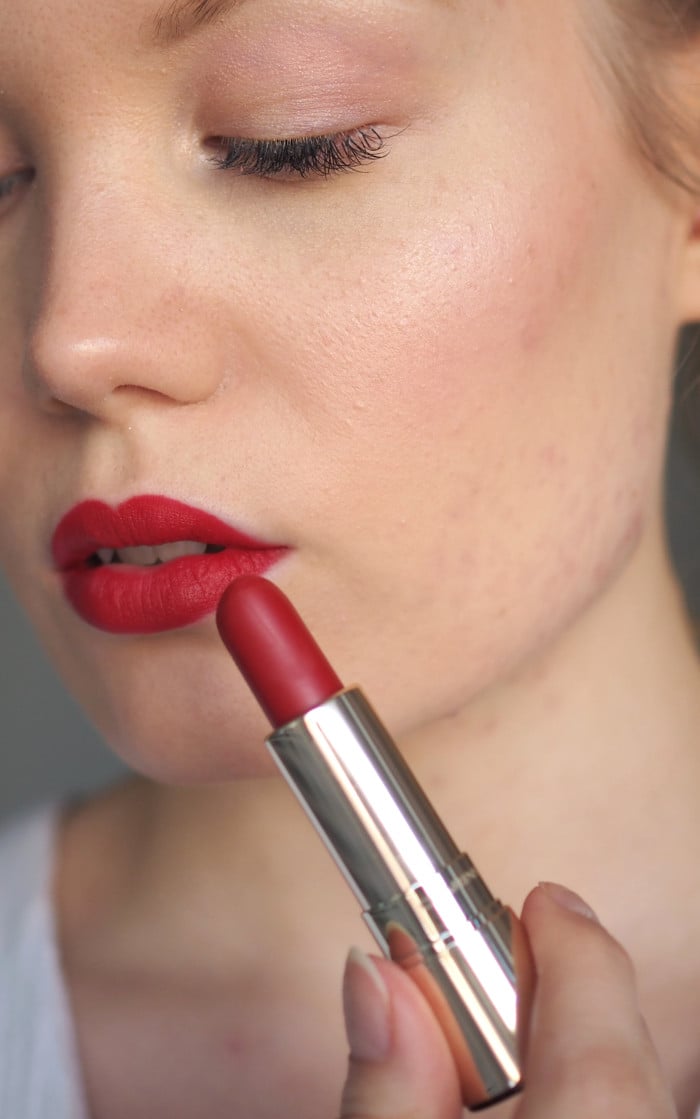 Right now – I love glossy and sheer lips. But when you're looking for something more long lasting, you should opt for matte lipsticks.
I recently got these new Clarins Joli Rouge Velvet matte lipsticks from Clarins as pr-samples. They came out with lots of new colors and I got four of them to try out. What's promising about these lippies is that they promise to moisturize your lips, while being matte. That's quite a promise and one of the reasons that got me excited about them.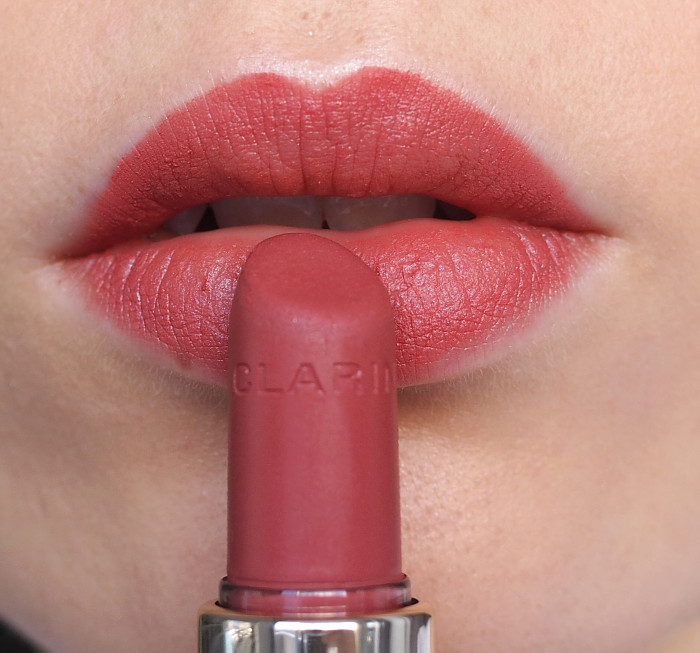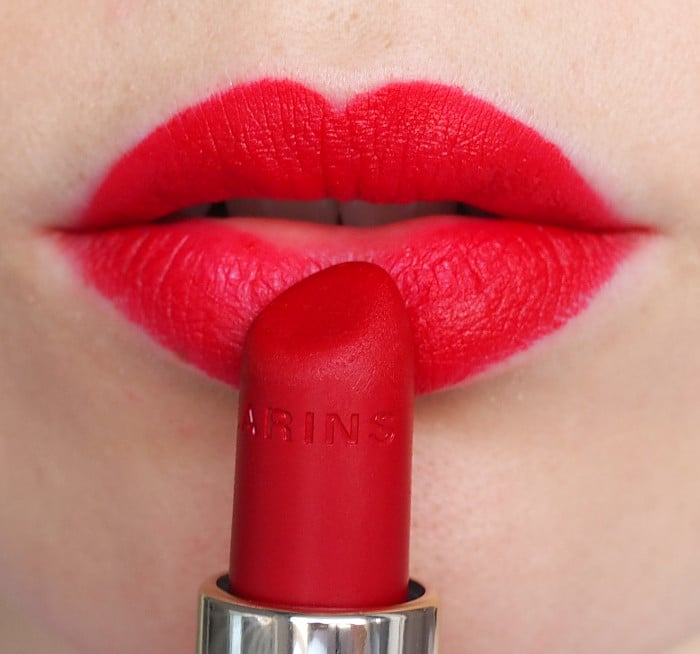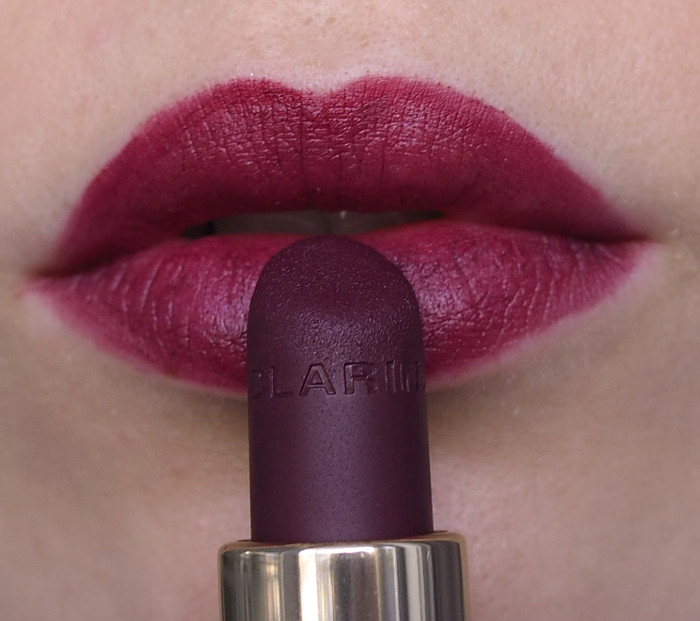 Clarins Joli Rouge Velvet matte lipsticks review
The packaging of these is beautiful – as is expected from Clarins. I love their packaging and I think it makes the lipsticks feel luxurious. I like the colors I received. You can't go wrong with nude, but I'm also a big fan of pink and red and both of those colors lean more to cool, making them perfect for my complexion. The plum color is also beautiful, but was a bit of an disappointment when it comes to consistency. Then again – I feel like these kind of plum colors always feel a bit patchy.  I have other lipsticks in  plum or purple color and they all are a bit tricky to apply on. Have you ever noticed that?
The lipsticks feel soft and velvety on the lips and they are definitely matte, but they don't look dry on the lips. I don't know if they feel moisturizing, but they feel comfortable and light on the lips. My lips don't feel dry after using these. The color payoff is amazing – you definitely should line your lips before applying these, just to make the job easier, since they are very pigmented. These look so beautiful on the lips – there's just something about matte lipsticks, which makes all the colors to really pop out.
They don't transfer as much as 'regular' lipsticks and they are quite long lasting, but I did need to touch up my lips after eating (as usual). I would wear these to a party, if I wanted my lip makeup to look beautiful all evening. Or if I got bored of my glossy lipsticks, haha.
All in all I think these lipsticks are beautiful and they are a great addition to Clarins' lipstick collection – I think they didn't have matte lipsticks before.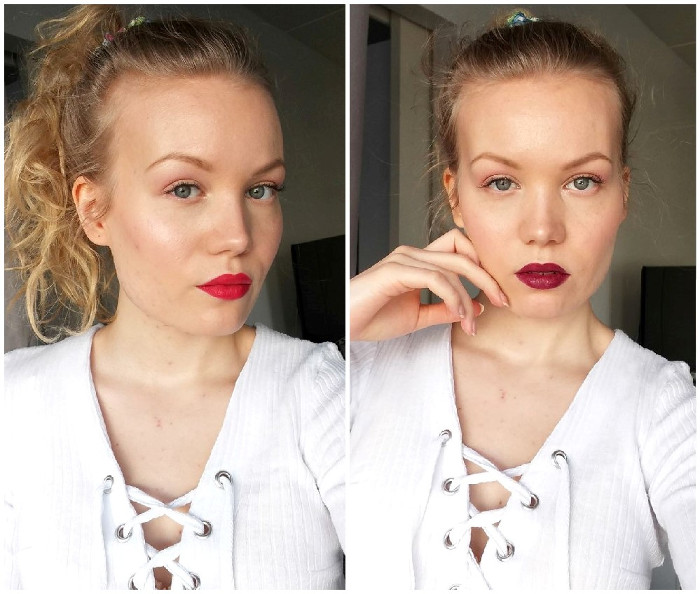 Btw – In the photos there are five lipsticks – I accidentally got one of them in another formula. So that fifth lipstick is Joli Rouge Brilliant in shade Woodberry. Joli Rouge Brilliant lipsticks give shine and a sheer color, as opposed to these very pigmented and long lasting Joli Rouge Velvet ones. But I did some research and that same color is available in the matte formula as well! I love the color – it's a cool nude color, which is definitely right up my alley.
Do you prefer matte or sheer lipsticks? Which color out of these is your favorite?