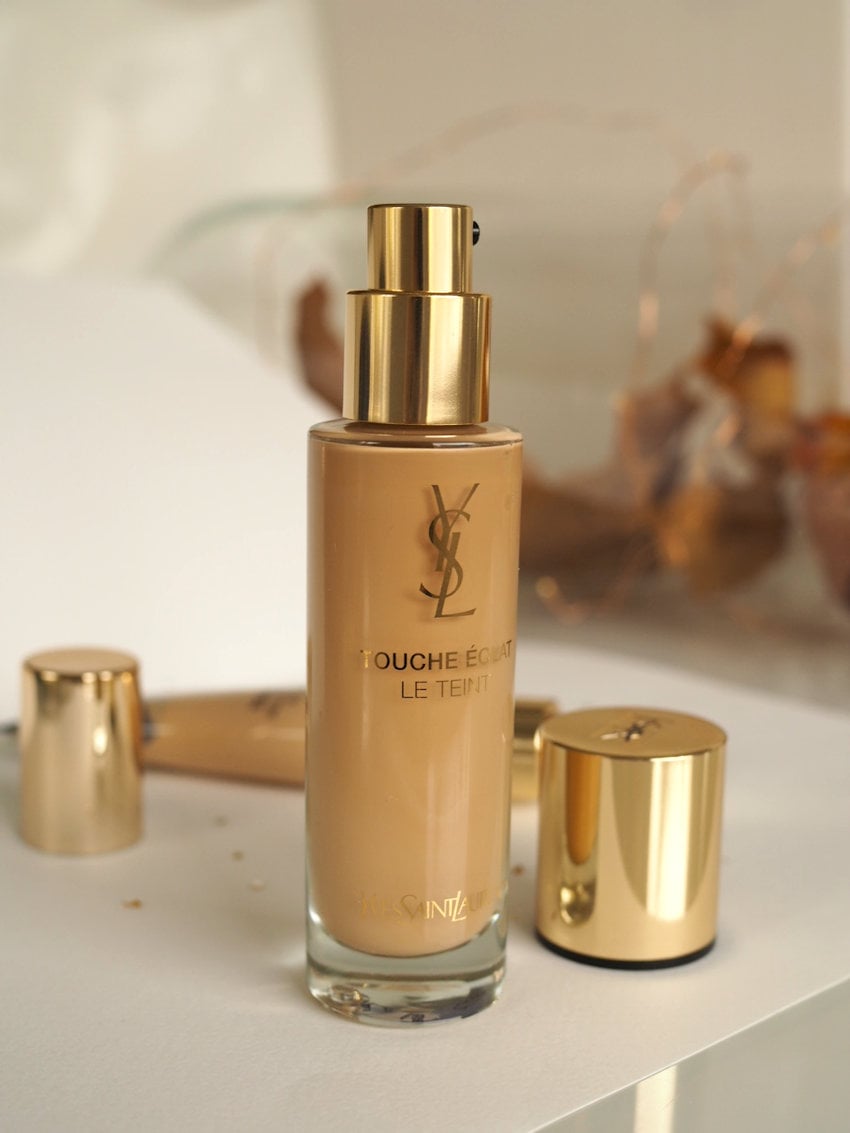 *adlink
If you want a glowy foundation with a good coverage and a very lightweight feel – Yves Saint Laurent's *Touche Eclat Le Teint foundation might just be the right foundation for you.
YSL Touche Eclat foundation is definitely a classic, which I just had to test out myself. I have a thing for foundations and more often or not I opt for the more expensive ones. I think Touche Eclat foundation is reasonable priced though and worth the money.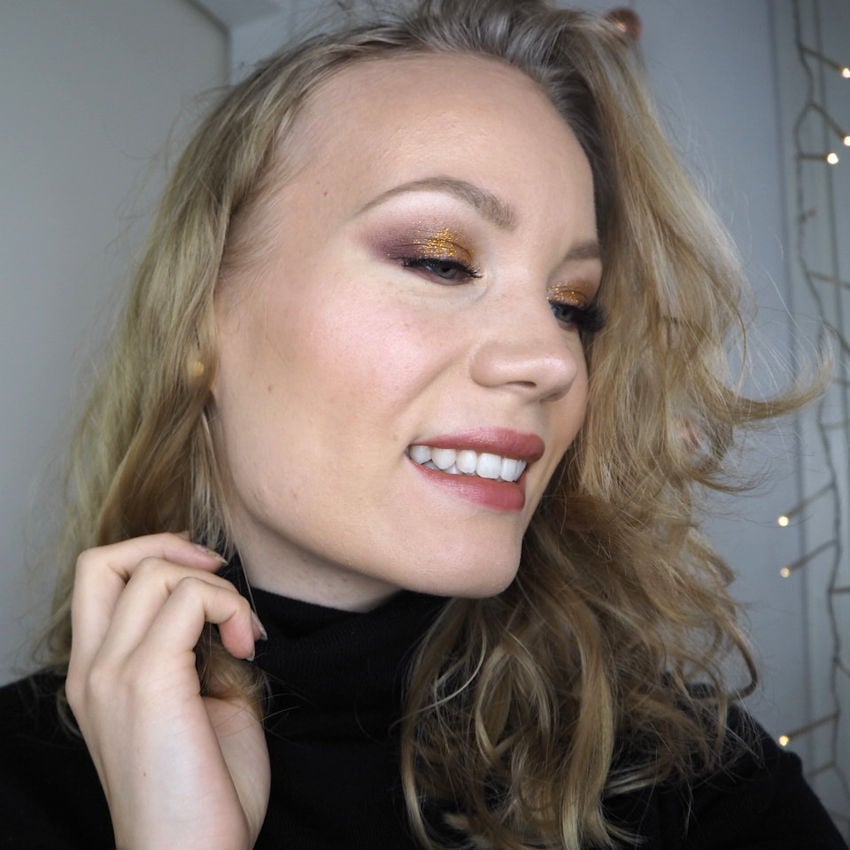 Yves Saint Laurent Touche Eclat Le Teint Foundation
It's said on YSL's site that this foundation is radiant and full-coverage. I was bit surprised to read that, because at first I would have said it's medium coverage. However, it does actually have an amazing coverage. It's just so thin and lightweight, you don't even realize it. It covers well without looking like a mask. It leaves a beautiful radiant finish, which helps to make it look more natural.
Now since it's not a totally matte foundation, it's not more long lasting than, say, Double Wear foundation. It still lasts really well on my skin and it wears off nicely. I'm quite glowy at the end of the day, but my skin still looks nice and even. It lasts better if I set the foundation with a powder though, which I rarely do nowadays, even though I have some oiliness on my skin. I just like the finish this foundation leaves on my skin, I don't want to add any more product to it. Or am I just lazy and leave the powder out therefore? Who knows.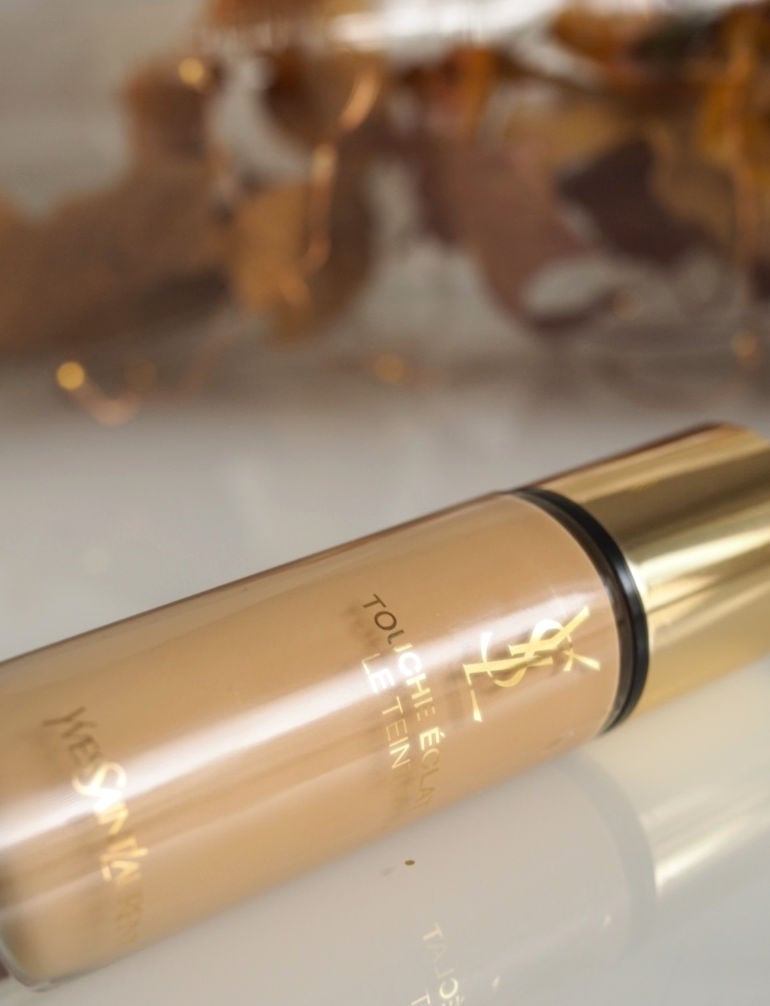 Touche Eclat Le Teint is easily blendable and I recommend using a damp beautyblender to apply it, as always. As said, the coverage is very nice even with one layer. You can build it up a bit too, but I just use a concealer where needed (acne and dark circles).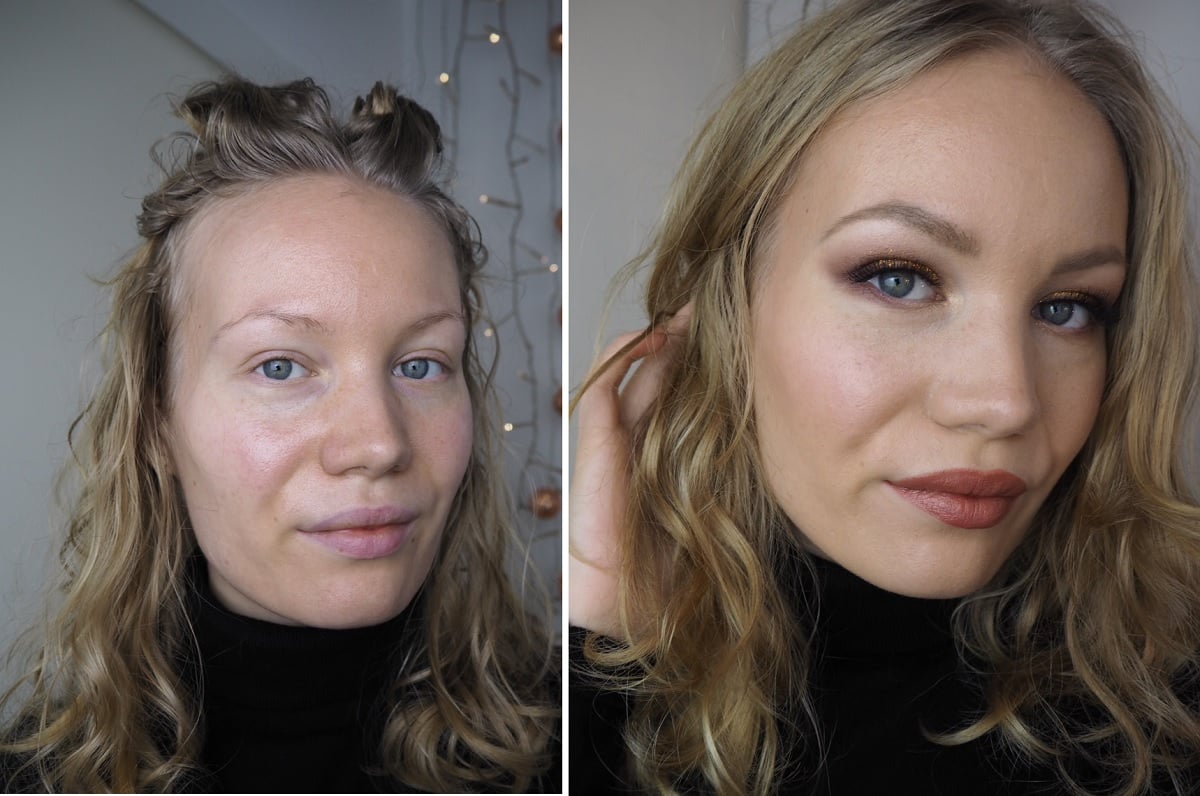 Before & after with YSL Touche Eclat Le Teint BD30. I used it for this gold tutorial. Photos taken in softbox -light.
How the shades go in YSL Touche Eclat Le Teint foundation 
B – neutral
BD – beige dore (yellow undertone)
BR – beige radiant (pink undertone)
The number indicates the darkness of the shade.
So my shade BD30 is yellow undertone and the third lightest shade. The numbers go all the way to 70 in Beige Dore shades.
I use the shade BD 30, which is considered a golden light color. It's quite yellow (I could have probably picked a color from the B (neutral) range), but since I'm more on on the warm side when it comes to undertones, I can use this shade. In summer it's probably the perfect match for me. And to be honest, I feel like yellow foundations give my skin the much needed warmth, since it's winter and I'm starting to remind one of Dracula's victims.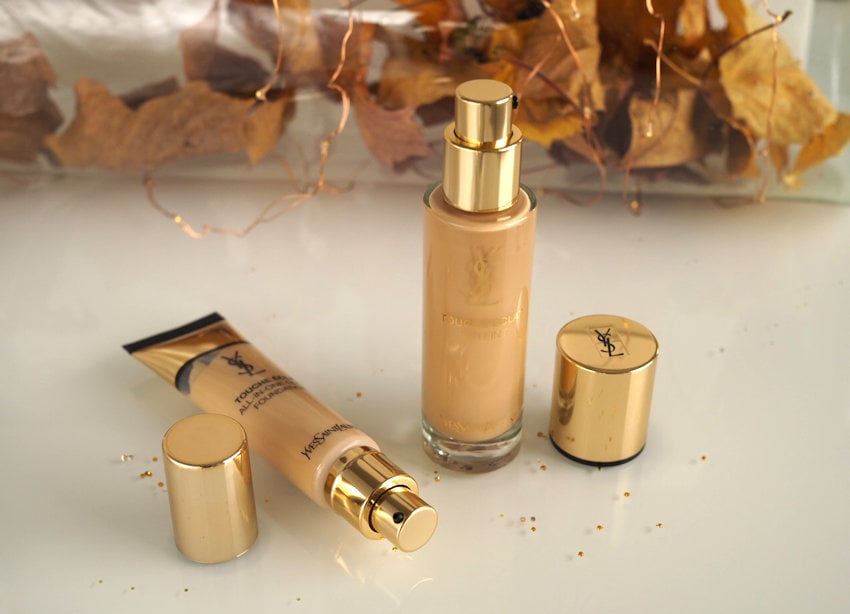 Shop Touche Eclat Le Teint Foundation
*YSL Touche Eclat Le Teint foundation 54$  Sephora
I would recommend this foundation to normal and combination skin. If you're oily, you can probably use it too, but you need to powder it well. If you have dry skin, you have better luck with *YSL Touche Eclat All-In-One Glow foundation. Actually, it might just work amazingly for you. I let my sister, who has extremely dry skin, test both of these and she couldn't make Touche Eclat work, but the All-In-One Glow worked perfectly. I know it's hard to find good foundations for dry skin, so hopefully this tip will help you out.