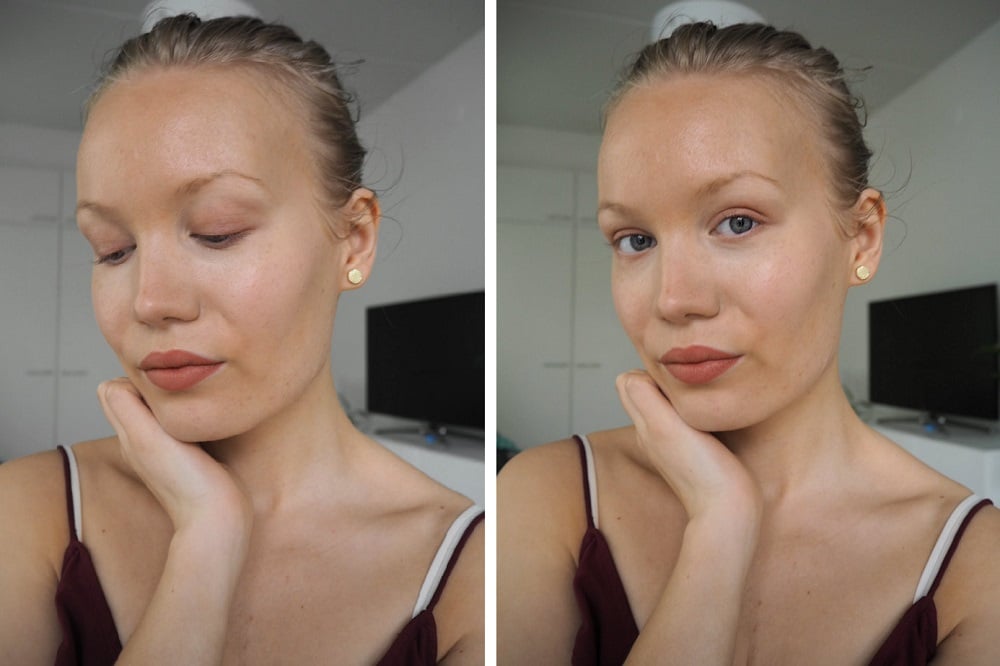 This quick makeup was done using just five products. Those five products are actually the ones I'm using daily right now. This look is also something I'm wearing quite often – I would probably just change up the lipstick color, add some brows and maybe eye makeup, if I was feeling very extra.
I guess less is more for me this Summer.
I was challenged to do this challenge by lovely Laura from Laurantaina blog. Thank you Laura!
5 product makeup challenge
*adlink
Madara City-CC Cream 
I'm loving a light glowy base right now. And since it's summer, SPF is important to me. I've been using Madara's City CC Cream daily – it's the perfect summer "foundation". It evens out my skintone, protects from the sun and gives a natural glow to the skin.
*MADARA City-CC Cream SPF 15, Medium Beige
NARS Soft Matte & Radiant Creamy Concealer
Even though I use a light base, I still need a good concealer with some real pigment and coverage. I bought NARS Soft Matte Concealer from Italy, since I've been wanting to try out that formula. And I love it! It's a more dry compared to the Radiant Creamy Concealer, but it's actually better for hiding pimples. And it works for my under eye area as well. It's very very pigmented, so a light layer will do. I have the shade Custard, which matches my tanned skintone quite well and neutralizes the blue under my eyes nicely. On top of that, I add a touch of my beloved Radiant Creamy Concealer in the shade Vanilla.
*NARS Soft Matte Concealer (US)  *NARS Soft Matte Concealer (UK) *NARS Soft Matte Concealer (EU)
*NARS Radiant Creamy Concealer (US) *NARS Radiant Creamy Concealer (UK)  *NARS Radiant Creamy Concealer (EU)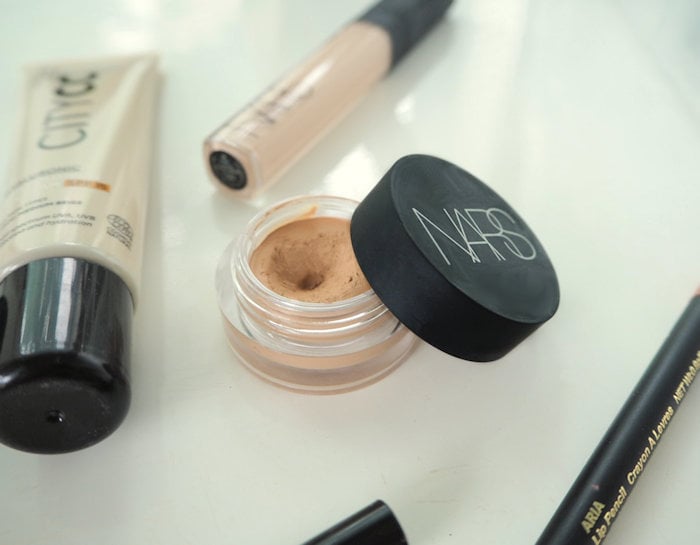 Post recommendation: How to conceal dark circles & concealer tips
Bareminerals Joy Highlighter
Another product I've fallen in love with (yes, it's that serious) is Bareminerals Joy Highlighter. I got gifted that from lookfantastic and I've been using it every day since. It's a liquid highlight with peachy and pink tones. The shade reminds me of NARS Orgasm Blush – except this blends like a dream and isn't dry and patchy. The shade actually doubles as a blush as well, if I'm in a hurry. It has fine shimmer in it and looks amazing on the skin. Amazing. I didn't think I would love a liquid highlight, but this is something I'm repurchasing when I run out of it.
*Bareminerals Joy Highlighter (US) *Bareminerals Joy highlighter (UK) *Bareminerals Joy Highlighter (EU)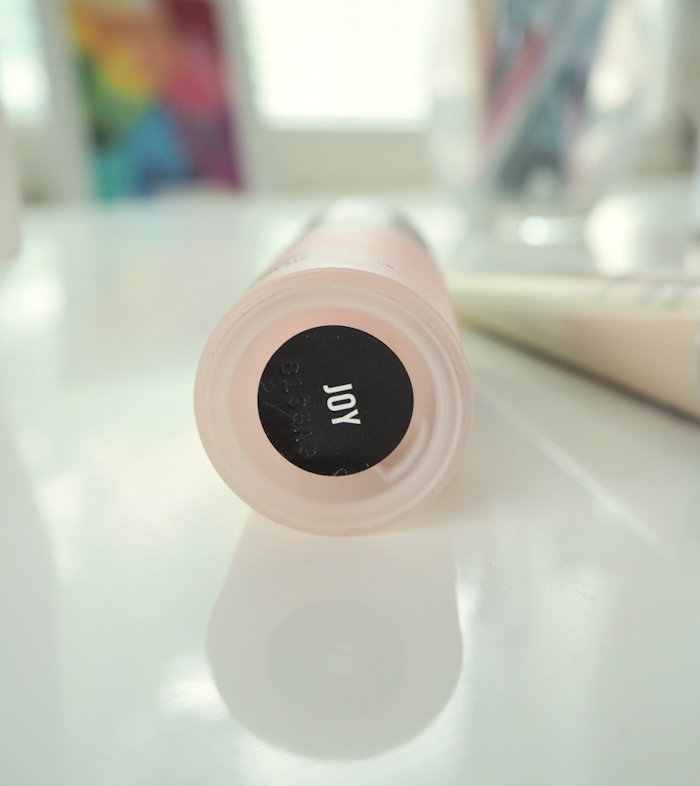 mellow cosmetics Aria Lip Liner
The fifth product is also gifted from lookfantastic since I got it from their Beauty Box. I've found some great products from their boxes! This mellow cosmetics Aria lipliner is the perfect peachy nude color for me. Especially now since I have quite a lot of freckles and warmth in my skin, a warm lip color looks very nice on me. For this look I also smudged some of this on my lids for a quick eye makeup. A good trick is to add either your blush or your lip color to your eyes as well – it might sound weird, but using the same color all over your face looks good.
*mellow cosmetics Aria Lip Liner (US) *mellow cosmerics Aria Lip Liner (UK) *mellow cosmetics Aria Lip Liner (EU)
Post recommendation: lookfantastic Beauty Box – is it worth it?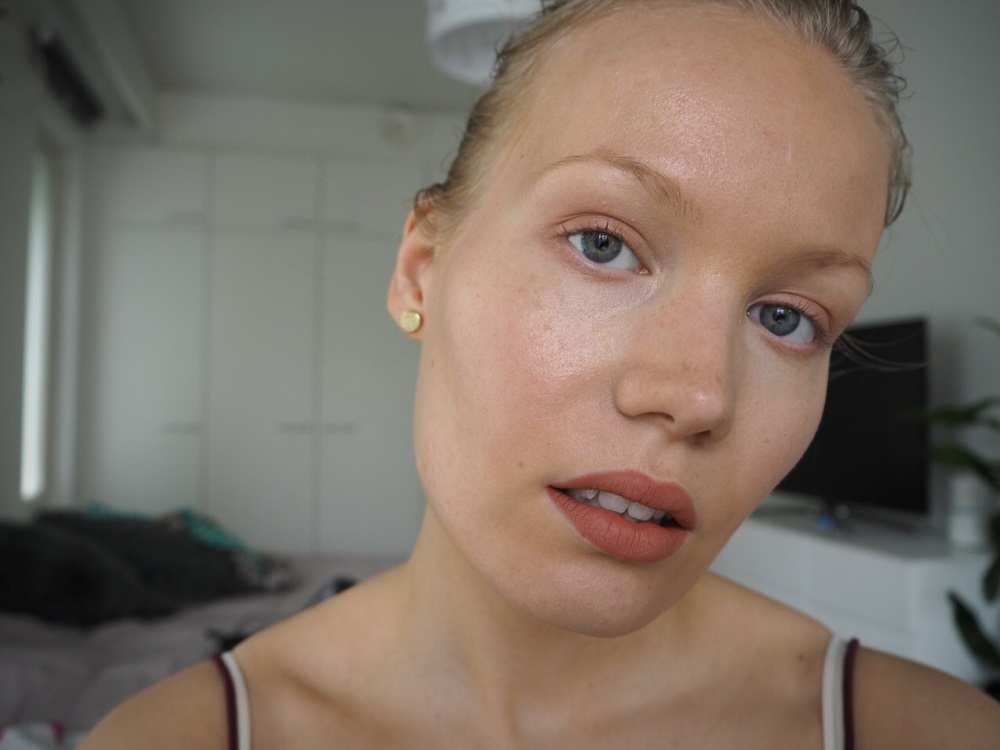 Now – I'm challenging Yiota from Pink Daisy Loves blog, Mia from Beauty Highlights -blog and Nena from Nena Sofia's Blog! Create a makeup using just five products.
And if you're a blogger reading this, I challenge you as well! Add your link to the comments and I'll make sure to comment and check it out.