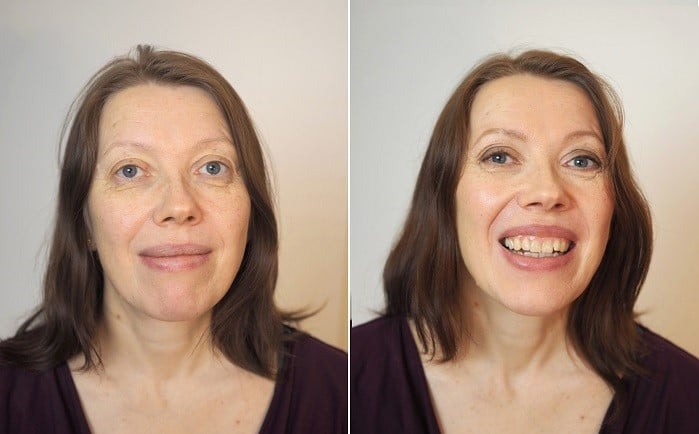 *adlink
When doing makeup on mature skin, there are a few things to keep in mind. It's important to focus on light and moisturizing products, that don't emphasize wrinkles or texture. I would also say that less is more –  it's all about enhancing your natural beauty.
I'm gonna be blunt here and tell you, that I get my beauty from my mom. She is gorgeous. Being a mother of five children, I know that makeup hasn't necessarily always been on the top of her list. But now that we are all older now, and my mom has more time to herself, she's been more into makeup.
I recently did mom's makeup and took some photos, so I could give you tips on how to apply makeup for mature skin. Let's get to the post.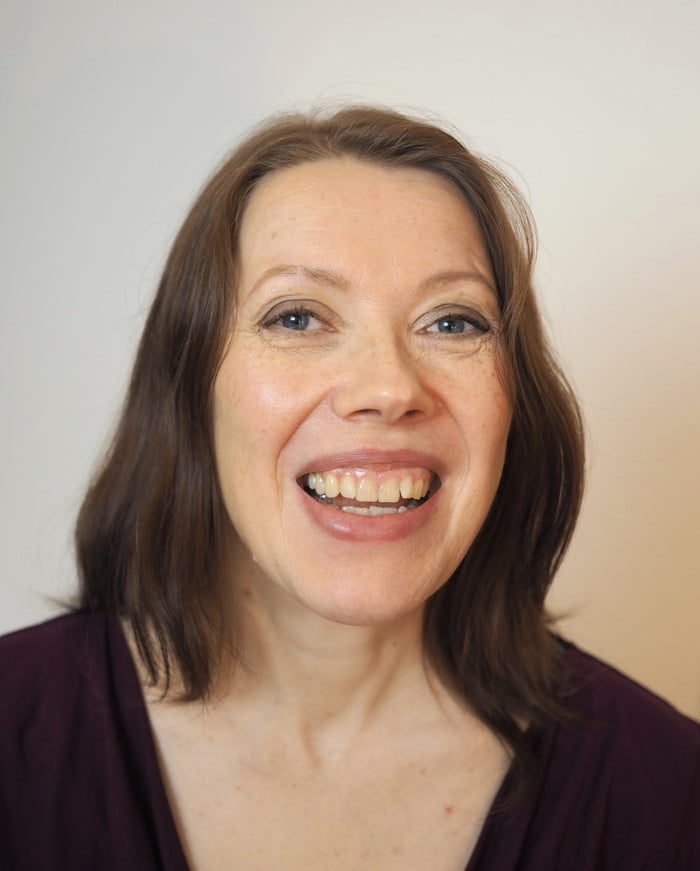 Makeup tips for mature skin – makeup base
Mature skin needs lots of moisture, so make sure your products are nourishing. Start with a moisturizing primer or a cream. That makes the skin smooth and soft, so that the foundation sits better on the skin. You can also try silicone-based primers – they smoothen the skin effectively.
Use a lightweight foundation.
Less is more here. Your best friends are tinted moisturizers, BB-creams and CC-creams. They even out the skin tone and give just enough coverage without looking too heavy. To get the coverage needed on the problem areas – such as dark circles, dark spots or redness – use a concealer. Mature skin (as do all skin types in my opinion) benefits from applying a lighter layer of foundation elsewhere and only concentrating the pigment where it's needed.
Use powder, but apply only a very light layer. You can focus the powder on the areas that get oily or where the foundation 'moves' easily. That is usually the t-zone. Choose a fine powder, so that it doesn't make the skin look chalky.
Don't forget to apply blush! It's the most important product right after foundation. It brightens the face and makes your skin look healthy and awake. If you want, you can also contour and highlight, but those aren't a must.
Makeup for aging skin
Use moisturizing products
Less is more
Always apply blush
Product recommendations for mature skin:
*Laura Mercier Transluscent Powder
*NARS Radiant Creamy Concealer
*Top rated BB & CC Creams on Sephora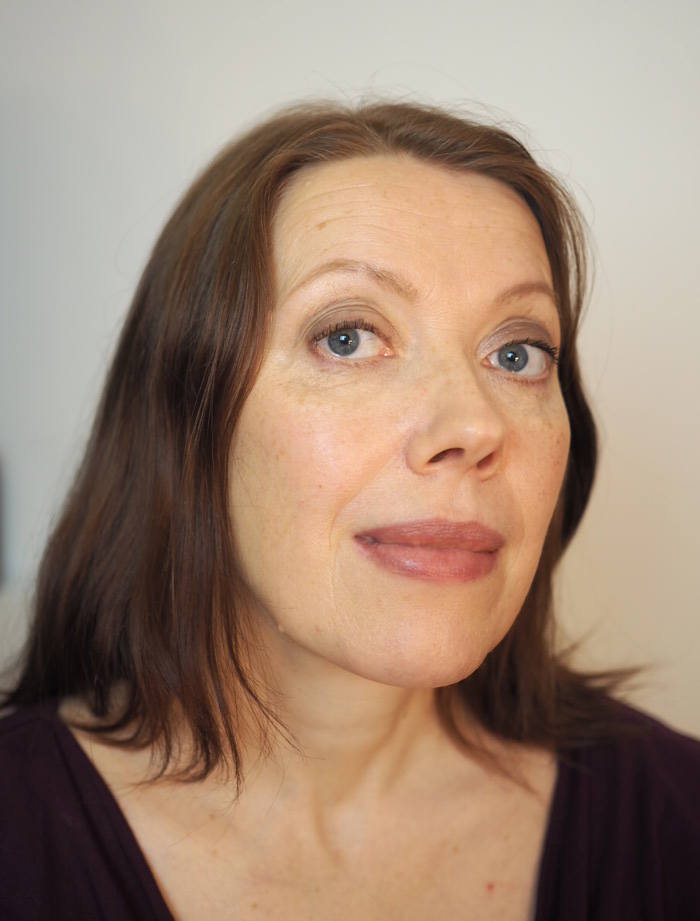 For mom's eyeshadow, I used her own new palette from Lavera. I basically applied one colour all over the lid, lined the eyes with soft black liner, added some light in the inner corners and then mascara.
Eye& lip makeup for mature skin
When it comes to eyeshadow, matte colors always work. Shimmery colors tend to highlight any skin texture and that means wrinkles too. You can still play with different colors! The same goes to blush and lipstick colors.
Your lipstick doesn't have to be matte, but matte lipsticks tend to stay better on the lips. They don't run into the fine lines as easily as some super glossy lipsticks.
Brows are obviously a super important thing. They lift up your face and create a frame to your face. Here I could have actually used a darker pencil. Check out my eyebrow tips on the Makeup Basics: Brows -post.
Use mainly matte colors
You can never go wrong with brown eyeshadow colors
Shimmery colors highlight skin texture
Product recommendations:
*Naked Basics Eyeshadow palette
*Jane Iredale Triple Luxe Lipstick (honestly just the best lipstick ever)
When it comes to eyeshadow application – find out what your eye shape is and check out some tutorials. You can find my tutorials for protruding eyes (mom's eye shape!), hooded eyes and deep set eyes.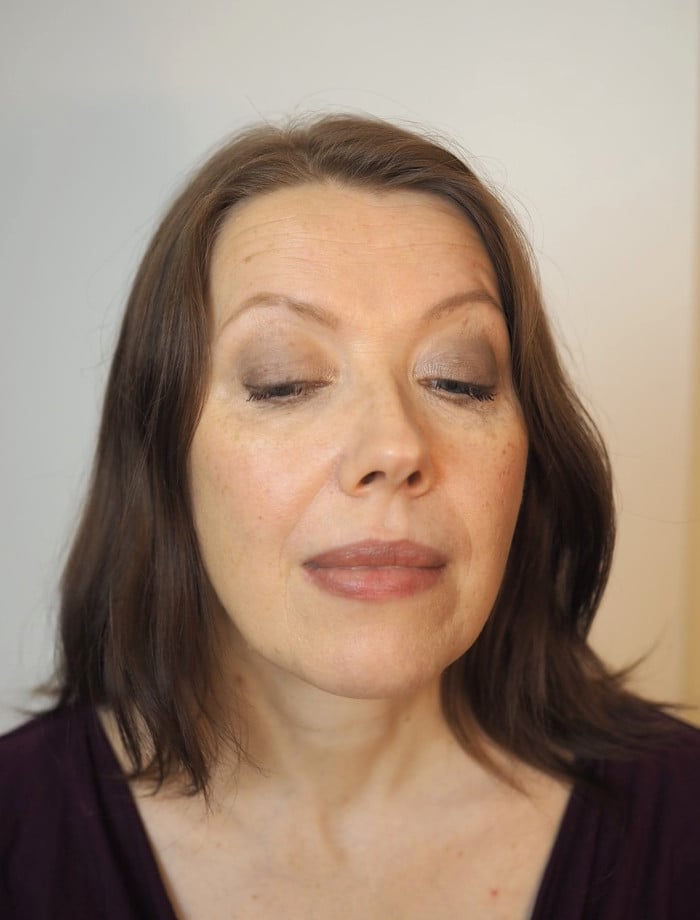 My mom is interested in natural makeup products, so I used products from Zuii. Their products contain lots of natural oils and extracts, so they are perfect for mature skin too.
PRODUCTS
Zuii Organic Makeup Primer
Zuii Organic Foundation, Natural Bisque
Zuii Organic Concealer, Fair
Zuii Organic Loose Powder, Buff
Zuii Organic Blush, Mango
Zuii Organic Eyebrow Definer, Taupe
Zuii Organic Lip & Cheek Creme, Janus
Lavera Eyeshadow Quattro, 2
Lancome Hypnose Mascara
Have you ever done your mom's makeup?
Related Posts