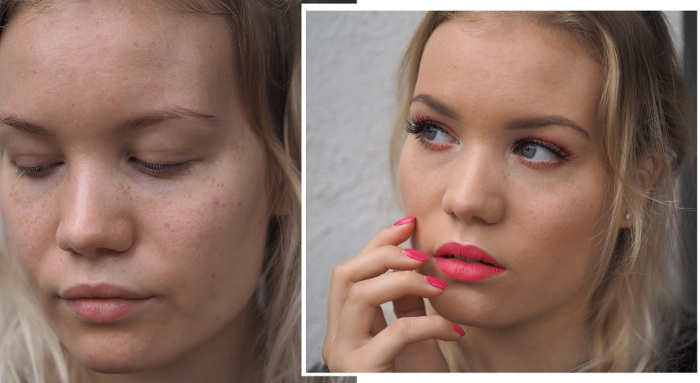 I got some products to test out from beauty salon Kristalli. I got Paese's matte primer, matte foundation, blush and a lip crayon from Absolute New York. I hadn't tried either of these brands before so I was excited.
I have a discount code for their website in Finland so if you're a Finnish reader check the code at the end of this post!
Paese's makeup is mineral based and has a lot of organic natural ingredients. Paese's promise is that 85% of the product's ingredient's are natural. Absolute New York is a very affordable brand that has a lot of colour cosmetics.
I wanted to create a makeup look only with these products that I got so I decided to be creative about their use. I ended up using both the lipstick and the blush as an eyeshadow too. The lipstick crayon worked great as an eyeshadow – especially after setting it with powder. I think one of the funniest thing about makeup is to use it the wrong way and figure out multifunctional ways of using it.
Paese & Absolut New York makeup review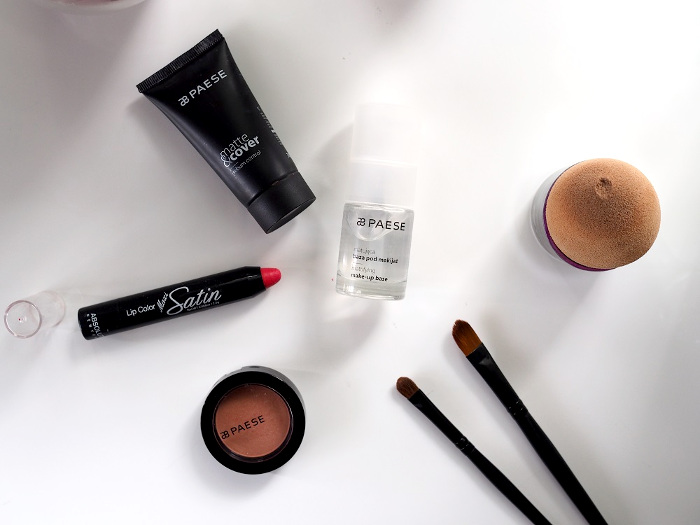 Paese Mattifying Base is a silicone-based primer that smooths and evens out the skin texture while helping to keep it matte during the day. It's very lasting and a little goes a long way with this one. I would compare this to Clarins' Instant Smooth Perfecting Touch primer that is one of my favorites from before. This just happens to be a lot cheaper and it comes in a pump and is a see-through so it's not only more hygienic than Clarins but it's pretty too. The clarins primer comes in a red jar. I would recommend this primer for all skin types – it's not drying at all but rather smooth so it works for dry and mature skin also.
Paese matte&cover foundation is an oil-free foundation designed for oily and mixed skin. It prevents the formation of black heads and impurities and it balances oily and dry areas. As you may imagine this foundation is a bit thick but since it's water-based it still blends easily. At first I had some trouble applying this – mainly because of some dryness on my skin – but since then it applied nicely. I feel like the best way to apply this – as well as almost any foundation – is with moist beautyblender. This foundation offers medium coverage so I used a concealer for some spots. I usually apply two or three thin layers to get the perfect base. I used a shade that gives me a bit of a tan 'cause it's still summer.  I recommend this foundation for oily and mixed skin – this is not for dry skin.
Paese blush in shade 53 has argan oil in it's ingredients and feels silky on the skin. I didn't get as much pigment out of this as I'm used to but in blushes it's also a good thing. It's not possible to apply too much of this and it's easy to layer it to get a nice soft colour. 53 is a natural peachy shade that I love to use as an eyeshadow too.
Absolute New York Lip Colour Maxi Satin in shade Real Red went straight to my favorites. It has a nice matte texture and finish. It's easy to line your lips with and it lasts well. It only costs 6,95€ so it's not a joke that you can find good lipsticks cheaply!
Now all my blog readers get a -20% discount in kosmetologikauppa with code "charlotta". The discount is valid until 17.9.16. The shop has a great range of professional skin care products such as EkoPharma, Bion and Dermalogica. I always order my EkoPharma products here. I also noticed you can get Hopea-Puro jewelry there and of course Paese and Absolute New York makeup. I also got some body products to try out so I will get back to you about them later.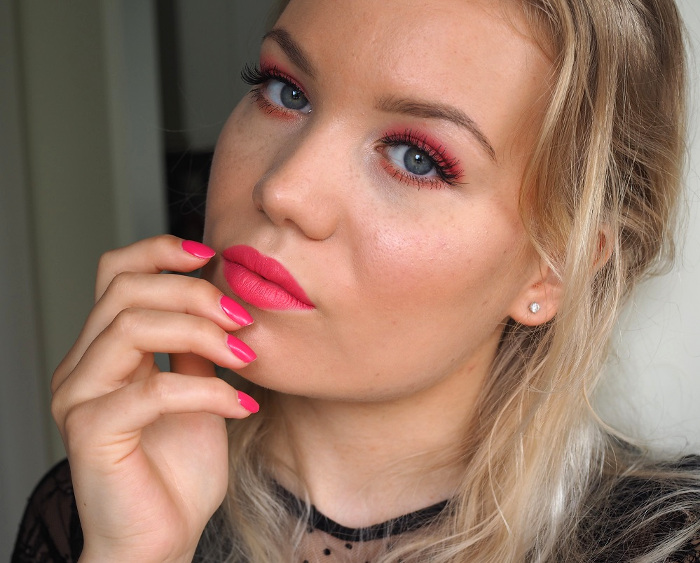 What do you think about this makeup look? Do you use products "the wrong way"?
Related Posts